CyberNorth is working with RTC North to support NCSC's delivery of the programme in the North East.
CyberFirst is a programme of opportunities to help young people explore their passion for tech by introducing them to the fast paced world of cyber security.
CyberFirst covers a broad range of activities: a comprehensive bursary scheme to financially support undergraduates through university and a degree apprenticeship scheme; a girls' only competition, thousands of free places on CyberFirst courses at UK universities and colleges and our new initiative CyberFirst Schools and Colleges. Each activity is designed to seek out diverse people with potential, offering the support, skills, experience and exposure needed to be the future first line of defence in our CyberFirst world.
Visit the NCSC CyberFirst website.
Schedule a meeting with the CyberFirst team
We need your help
To support the CyberFirst programme we need the support of people with experience of cyber security to work with young people at schools and colleges.
To get involved we encourage you to become STEM ambassador (science, technology, engineering, and maths). A STEM Ambassador is a voluntary role undertaken by someone who has a passion and/or professional knowledge of STEM subjects. Our volunteers give their time and enthusiasm to work with young people in schools and in the community, with the shared goal of inspiring the next generation to continue a STEM pathway. The level of involvement a STEM Ambassador wishes to have in the programme is up to the individual. We know that even giving a couple of hours of their own time can make a positive impact on a young person.
You can find more about becoming a STEM Ambassador here.
For more information about supporting CyberFirst in the North East contact CyberFirst@CyberNorth.biz
We will also be at OWASP's Newcastle Chapter event 15 May https://cybernorth.biz/events/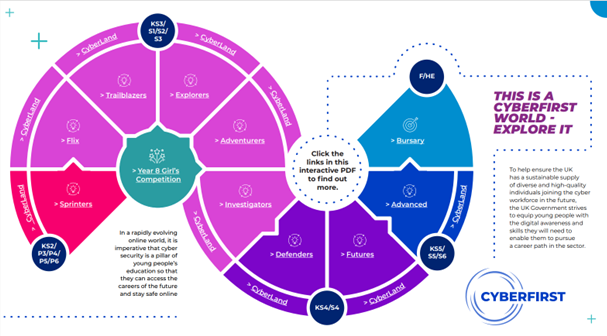 Schedule a meeting with the CyberFirst team
CyberFirst Schools
The NCSC aims to recognise those schools and colleges whose approach to cyber and cyber security education is excellent. Schools and colleges that achieve this recognition can expect to be:
formally recognised and promoted by the National Cyber Security Centre
provided with opportunities to engage with local and national companies seeking to invest time, expertise and resources in schools and colleges
provided with opportunities to engage with Universities seeking to invest time, expertise and resources in local schools and colleges
a focal point for other CyberFirst activities
provided with an opportunity to be a part of CISSE UK
Joining CyberFirst
Eligible secondary schools or colleges in the north east can apply to be a part of our CyberFirst Schools and Colleges scheme.

Successful applicants receive NCSC recognition via their CyberFirst Award status as either Bronze, Silver or Gold. Becoming a CyberFirst School means becoming a part of the growing national CyberFirst education eco-system.

CyberFirst Schools and Colleges are promoted as leaders who are committed to providing a structured approach to excellence in cyber security education.
Schools and Colleges wishing to be considered for CyberFirst recognition should complete the form below: https://forms.microsoft.com/e/k5P9LiPeaU
Schedule a meeting with the CyberFirst team
Latest news
Read about the NCSC's Bitesize CyberFirst – Key-Stage One/Two (7-11 year olds).
Read about the NCSC's Cyber Security Education Ecosystem Conference.
Read about the NCSC's CyberFlix and CyberSprinters
Read about CYBERFIRST ADVANCED DURHAM
10 North East Schools Set to join the NCSC Cyber First Programme
Read about our most recent event – Empowering Future Cyber STEM Ambassadors
Meet the team
Schedule a meeting with the CyberFirst team
CyberFirst Schools
Carmel College – Darlington
At Carmel College we strive to have the highest expectations in all that we do, not only preserving our reputation for excellence but also continuously seeking ways to strengthen it. Our community is centred by our mission in education "as a work of love", this brings a common purpose for our teachers who understand the importance they play in shaping the futures and personal formation of our young people.
North East Futures UTC – Newcastle
Why is North East Futures UTC different? We are a state funded secondary school located in Newcastle Upon Tyne with no school fees. If you are between 14-19 years old and wish to pursue a career within the STEM industries, North East Futures UTC will provide you with a very unique education.
Royal Grammar School – Newcastle
RGS is a special place, known and respected throughout the whole country as well as the North East. It's a place where aspirations are high, results are outstanding and opportunities are endless. Expectations are high and our students go on to study highly selective courses at the most sought-after universities, but also leave the school realising that life outside the classroom has been equally beneficial.
St Bedes School and Sixth Form College Lanchester – Durham
Here at St Bede's, we have a strong, caring, Catholic ethos and aim to provide children with a high quality, broad and balanced curriculum; we place great emphasis on striving for personal success whatever the starting point for the individual.
Thorp Academy – Gateshead
We are a Northern Education Trust academy and one of the top performing schools in the local area. Outcomes Focused, Child Centred.
Cardinal Hume – Gateshead
We are a forward-thinking school and aim to ensure that all of our students are afforded the highest standard of education. We were awarded World Class School status in 2021 and are a leading-edge Hub school in both Computing and Modern Foreign Languages.
James Calvert Spence College – Amble
You should choose us because we are a caring, welcoming community whose sole purpose is to nurture and develop your child into a confident, well rounded young person, ready to contribute to society, whilst maximising their individual academic potential
Dame Allan's – Newcastle
Dame Allan's was founded in 1705 to provide quality education for boys and girls in Newcastle. We are unique in the region as the only school following the pioneering Diamond Structure of education, which combines single-sex education within a co-educational setting.
Acklam Grange – Middlesbrough
Acklam Grange is an Academy and inclusive school in Middlesbrough with a focus on learning for all the family. A big school with a big heart, our priority is our students' achievement, empowering every child to exceed expectations and be the best that they can be.
Dyke House – Hartlepool
We constantly focus on standards as we understand outcomes are paramount. Our decision making is driven entirely by what is best for children. By doing this we enhance the life chances of the children and young people in our care.
Bede Academy – Blyth
Our vision can be simply stated as excellence for all. We seek to provide our students with an oustanding education underpinned by traditional Christain values.
Our Lady and St Bede – Darlington
Our school has a distinct ethos centred upon the life and teachings of Jesus Christ. Every pupil has their own individual strengths, gifts and talents and our aim is to ensure that these are all developed to their full potential.
Kings Priory School – Tynemouth
We do not just teach subjects, we nurture the whole individual – mind, body and spirit. Classroom learning is marked by as much attention to how you learn as what you learn, recognising that for pupils to enter the next stage of their lives, they need to learn habits of mind that sustain their curiosity, build their skills in reasoning, problem solving and presentation.
Durham School – Durham
DCSF is a foundation of schools that provides pupils with a complete education. Our pupils leave with moral integrity, an ambition for achievement, a responsibility for their actions and a kindness to others.
Sandhill View – Sunderland
Sandhill View is at the heart of a community where everyone matters. A non-denominational Academy for 11- 16 year olds, we are a member of the 'Southmoor Multi Academy Trust'. Our school strives to raise achievement and aspiration in all its pupils, so that they develop with confidence and pride in preparation for their future.