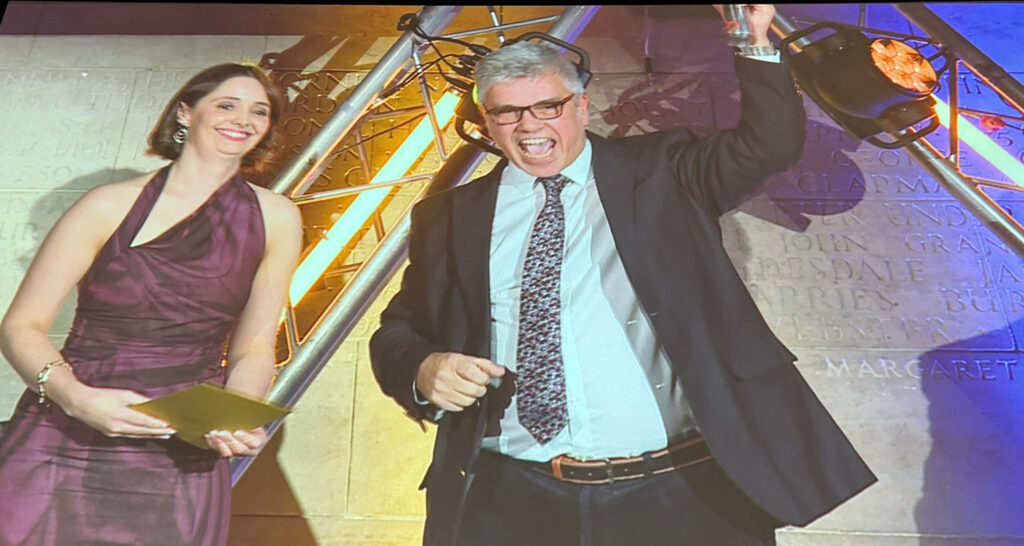 How many times can I say this has been some year? One more perhaps because this has been some year for CyberNorth. Ever since getting the team together, we're up to four now, the business has gone from strength to strength.
Back in April we became our own community interest company, supported by a focussed board of directors. We have led some interesting projects, such as the Northern Cyber Cluster Collaboration and Shared Apprenticeship and had the best ever #CyberFest in September, with our biggest ever event with Aspire which included a ministerial visit. Traction with the cyber security sector, locally, nationally and even internationally, has never been better.
Yet there was more to come. Last week I was nominated for an award at the annual Dynamo North East Dynamites awards. I was surprised, as this is not normally my thing, yet got an even bigger surprise on the night to find that the team had taken a table with friends and colleagues from the sector, including from UKC3.
The picture kind of gives it all away but I won the Tech Champion award (Sponsored by Nigel Wright Recruitment). Everything was such a blur when I went on stage to collect the impressive trophy that I managed to get down before my photograph was taken!
Somebody once told me that when people pay you a compliment, you should take it as it is meant and just say thank you. Therefore, I would like to thank Danielle, who made it all happen, Andrew and Thea from CyberNorth, Sarah and Jackie from UKC3, Esther, Igor and Jon who were on my table and all the people I managed to say hello to and the dozens I never got around to. I must also thank Sarah from Beaconhouse Events, who is pivotal to both Dynamo and Dynamites. She rearranged the timings of the event in case I needed to go home early!
What a night it was for CyberNorth, the North East region and me personally. There is so much talent, in all aspects of technology and it makes me wish, in a way, that I could start all over again.
Here are all the winners on the night:
Best Use of Data (Sponsored by Invest Newcastle) – Wordnerds
Equality, Diversity, & Inclusion (Sponsored by Gateshead College) – Opencast
Growth Explosion (Sponsored by LDC) – Opencast
Innovator of the Year (Sponsored by Raymond James, Monument) – Oliver Wyman
Project of the Year (Sponsored by Oliver Wyman) – Kinewell Energy
International Success (Sponsored by Leighton) – Oliver Wyman
Rising Star (Sponsored by NEBRC) – Uffa Modey, hedgehog lab
Skills Developer (Sponsored by Sage) – Gateshead College
Sustainability in Tech (Sponsored by BJSS) – NBS
Tech for Good (Sponsored by Tombola) – Paul McMurray, Donation Genie