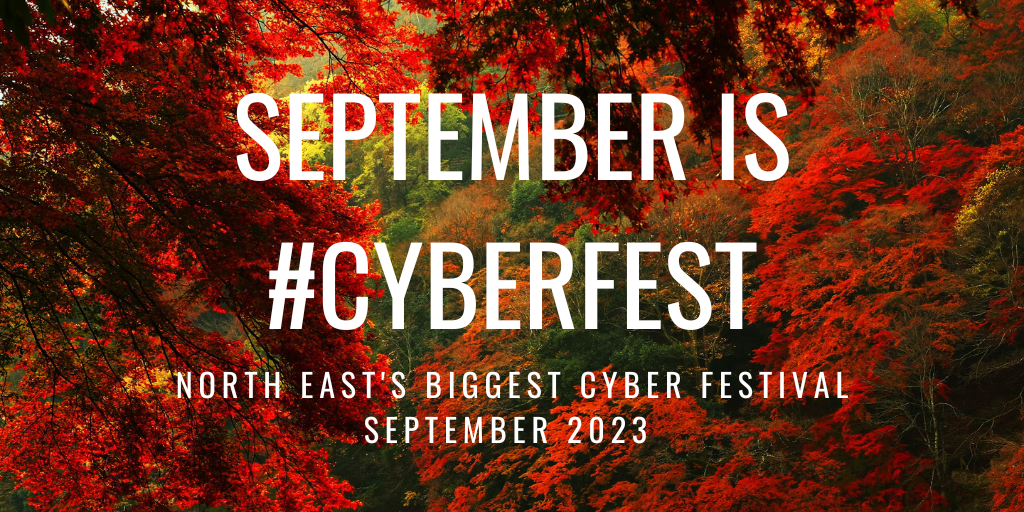 #CyberFest is starting off slowly this year, with only one event in the first week. That's the week where the schools go back and a lot of people have many other things on which to focus their attention. Week two is a different kettle of fish, with six events in total, meaning some days have more than one event. Getting from one to another is going to be interesting logistically.
Three of the events were covered in last week's blog 'Innovation and the Future', while the others start on the Wednesday with #CyberFest – How to support Tees Valley businesses. CyberNorth and the festival cover the whole of North East England and we always try to put something on in the Tees Valley. This year it is something a little different with a round table discussion about what the sector wants from CyberNorth, in and around Teesside. This event is very much about engaging with local businesses, both providers and recipients of cyber security services.
The next day sees two events, starting with #CyberFest – Cyber Intelligence Alliance September Conference at Ramside Hall Hotel just outside Durham. We're very grateful to Cyberwhite for hosting this event. It has been running a series of events that provide an excellent opportunity to network with other IT leaders and senior cyber security experts within the industry. More importantly, they are a great way to learn about the latest threats in cyber security and eat a nice lunch!
After this it is back up the road to Northumbria University for #CyberFest – It's a People Thing, Think Culture and Peer Support. It is often said, especially by us, that cyber security isn't just a technical issue. It is also a people issue, with actions done by people against other people. Businesses may be targeted but it is their employees and customers that suffer. This is why we are looking at the cultural issues within organisations that hold back efforts to improve cyber security and talking about how to harness peer influence to improve cybersecurity behaviour. Changes in behaviour and the attitudes of those in authority can make an enormous difference to the safety and security of an organisation.
These are going to be three lively events with plenty of discussion and learning. Don't forget the other three that week:
AI – The fakes just got real
Coffee Cake and Collaboration
Quantum Hardware and Post-Quantum Cyber Security
Details and tickets for all events can be found at www.cybernorth.biz/cyberfest and we look forward to seeing you at one or more of them.