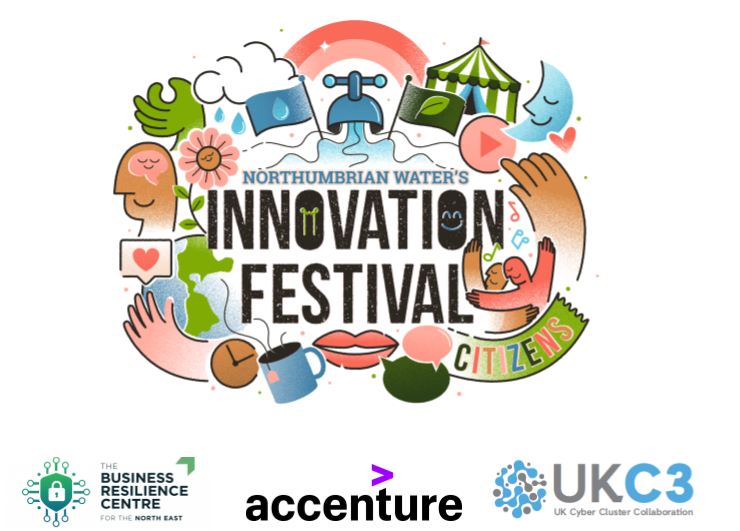 Northumbrian Water Group's innovation festivals are big, loud, exciting and very unique events where they gather some of the greatest and most innovative minds from the worlds of business, science, tech, engineering, utilities and customer services and get them to tackle real world problems together in a series of sprints.
If you have never been then this is your chance to spend one to three days with us, in a tent at Newcastle Racecourse, tackling some exciting issues and opportunities in and around cyber security. There will be cake and ice cream as well.
It's going to be like a cheeky summer break for your brain!
If you don't believe me then you can find more information about the 2022 festival at https://www.innovationfestival.org/ from which CyberNorth has taken some amazing ideas, from concept to fruition. We're hoping for the same level of inspiration this time around.
This year, CyberNorth, supported by its sponsors, Accenture, UKC3 and the North East Business Resilience Centre, will run a series of 3 facilitated daily dashes:
Developing skills initiatives in the cyber security sector – 11 July
Innovation across the NE regional Catapults – 12 July
Using FinTech to address cost of living issues – 13 July
Over the coming weeks we will provide more information on each of these dashes but don't worry if you feel you're not an expert in cyber security, anyone who wants to make a difference is welcome.
You can join us at the festival for one, two are all three dashes and even attend the Monday if you wish. The choice is entirely yours. Spaces are filling up nicely and registrations can be made here: https://t.co/mhXFykM9aW
See you there.