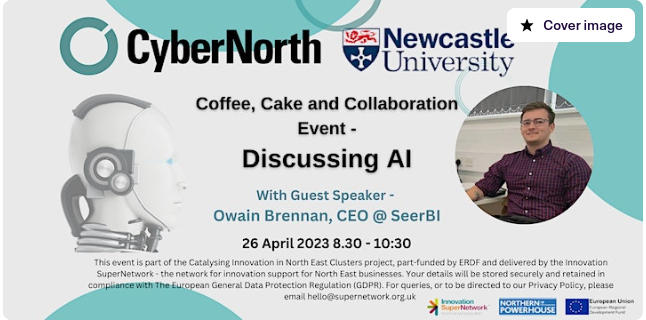 Wednesday 26 April saw CyberNorth's second coffee, cake and collaboration event with Newcastle University's Cyber Security and Resilience and Security and Resilient Systems Group. The idea behind these events is to encourage all parts of the cyber security sector to come together and work on new opportunities. 
Clearly the University has the resources to carry out research while the commercial sector has the drive to turn ideas into workable products. Others, such as the public and third sectors can bring their experience and knowledge of real world opportunities. The hope is that by coming together in this way there is a spark of creativity that leads to bigger things. Cake and coffee helps.
The topic for this event was AI and machine learning, an exciting area of development supporting robust cyber security systems while, on the other hand, opening up potential threat vectors.
We had two speakers to get us underway. Owain Brennan, from SeerBI spoke about the commercial opportunities in AI and machine learning while Dr Hollie Johnson, from the National Innovation Centre for Data spoke about data research and its relevance to AI and machine learning.
Based in the North East SeerBI provides Business Intelligence, Machine Learning, Artificial Intelligence (AI) & Big Data Development methods to create actionable solutions, and make industry more efficient with an award winning team in Maritime, Logistics & Industry. Find out more at https://seerbi.uk/
The National Innovation Centre for Data (NICD) is here to help your organisation learn new data skills to become more productive. We can help you gain insight from data that will enable you to grow. Find out more at https://www.nicd.org.uk/
The talks were followed by a panel discussion and audience Q&A.
I must admit that the talk about AI filled me with mixed emotions, a mixture of excitement and trepidation. I was excited as this feels like the cusp of something momentous, perhaps the verge of a new industrial revolution even. Yet the thought of some of the power that can be unleashed, especially unwittingly is terrifying.
All technologies end up being used for purposes that were unintended and often unimagined. AI will be exactly the same. It has an enormous potential for good, yet the same potential for bad. The technology itself is not my concern but rather the increasingly rapid development and change that it is bringing, so rapid that society will be unable to absorb its consequences.
This was a cyber security event, however and there was plenty to think about. AI will be a force for good in cyber yet will open up new threat vectors. One interesting aspect that I hadn't considered, is the use of ChatGPT to create corporate policies and documents in multiple languages. This is a particular issue in maritime where crews can often have many nationalities whose first language is not English. Just as ChatGPT makes production easier, it will also make it easier to provide false documentation, translated into multiple languages, making control of the dissemination of vital information more difficult.
These are great events and you should come along.